BeatThatQuote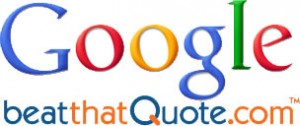 BeatThatQuote (BTQ) is a great example of 'Ecosystem Economics™' in action in the financial services sector. Through the support of entrepreneurcountry, BTQ succeed as a digital enabler because they understood the vital role they played in their ecosystem, were able to identify and secure natural allies, as well as structure their business model around existing corporate architecture.
History
BTQ was the UK's fastest growing comparison site, which fought for lower prices and better rates for consumers to receive cheaper quotes. Founded in 2005, BeatThatQuote.com operated by searching the UK to find, compare and introduce customers to the cheapest financial services and products.
Users were able to search for finance companies, finance advice, quotes or cheap rate product comparisons. The website introduced users to a Specialist Advisor who provided expert advice and product providers that users could self select from Provider Tables that they present.
BeatThatQuote.com received around 2.5 million unique visitors per month in June 2008 and was acquired by Google in March 2011 for £37.7 million. This acquisition was facilitated by Ariadne Capital, who were BTQ's sole adviser on the sale of the business. After the sale, John Paleomylites said "Ariadne were great advisers. I'd recommend them to anyone."
Key Information
Founded: February 2005
Life Services - Consumer Financial Services, E-Health, E-Commerce and Digital Home
USP: Disrupting market with white-label and cash-back strategy
John Paleomylites, Founder and CEO
John Paleomylites, a serial entrepreneur from north London, owned around 90 per cent of shares in BTQ prior to its acquisition by Google. He previously sold another start-up, JCP, which made internet security software, to Sun Microsystems for £40m in 2000.
One of the keys to BTQ's success was John Paleomylites ability to harness technology that brought disruptive solutions to market, as well as successfully creating a compelling consumer proposition.
Ecosystem Economics™
Ecosystem Economics™ refers to the business model design and implementation in a network where the economics are shared such that the consumer and each party shares in the upside. BTQ provides one of the strongest case studies for this, as the business acted as a key digital enabler to the industry Goliath's. BTQ's success demonstrates how those companies who restructure industries by designing new business models are the ones who become the winners.
Through building a business model that scaled and cut the user in on the economic value of their personal data, BTQ became a strategically important digital enabler for Google, justifying the 122X multiple paid on EBITDA. BTQ understood that Google organise the economics of the world's information. Google use people's data to cut a set of economics for the search and advertising transaction and give the consumer no economic benefit for the use of their personal data. Google's business model works to their exclusive benefit.
BTQ came along and cut a different, more inclusive set of economics for the search transaction. BTQ challenged the business model of the advertising industry with it's cashback deals, giving the consumer a share of the economics which the use of their personal data was generating.
In stark contrast to Google's model, through incentivising the user economically for the use of their data, BTQ cut to the heart of Google's business model.