Is Software Now Eating The Rag Trade?
Even by the standards of Silicon Valley, where dramatic predictions are as common as hot dinners, to say that "Retail is Dead" is still quite shocking. What, you mean dead dead, not just say, resting? Yes, that is what Marc Andreessen of Venture Capital firm Andreessen Horowitz recently told PandoDaily's Sarah Lacy.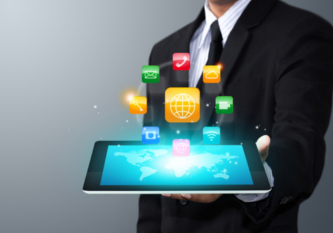 His argument runs as follows: "Retail guys are going to go out of business and e-commerce will become the place everyone buys. You are not going to have a choice". Previously Andreessen, who is most associated first with Mosaic (one of the first Internet browsers) and later with Netscape (the IPO that started the dot com boom) attracted significant attention with a WSJ essay on August 20, 2011 titled "Why Software Is Eating The World". Here, he predicted that "we are in the middle of a dramatic and broad technological and economic shift in which software companies are poised to take over large swathes of the economy." Reading the comments (444 and counting), many people were so jolted by this that they missed the arguably more important second part of what he wanted to say. Without investment in education and infrastructure, we will not realise the benefits of this innovation as quickly as we could.
Having worked for four years as a Disruptive Innovation consultant, you would perhaps expect me to be an enthusiastic proponent of "Retail is dead". Quoting Andreessen further: "Retail chains are a fundamentally implausible economic structure if there's a viable alternative. You combine the fixed cost of real estate with inventory, and it puts every retailer in a highly leveraged position. Few can survive a decline of 20 to 30 percent in revenues. It just doesn't make any sense for all this stuff to sit on shelves. There is fundamentally a better model". As well as the case studies we have of how iTunes killed record stores and digital cameras killed processed film, I see in my own life how my behaviour is changing. I now automatically get the epub of books and not the paperback. Instant gratification is a big part of it. The Economist comes on line at 6pm on Thursdays whereas I only get the magazine into my hand when I get home from work on Monday evening, That is four days later. So is clothing really any different? Will software and the internet eat it just as it ate books, CDs and photos? Go ahead and say this time it´s different, but for Borders, HMV and Kodak those turned out to be very, very dangerous words.
Primark
My reluctance to welcome our new silicon overlords has everything to do with following the entry of Primark, the UK & Ireland fashion chain, into Spain, Portugal, Germany and the Netherlands. The scene in my local Primark on the first Saturday morning after payday resembles the most decadent days of the Roman Empire as hordes (and I use the word precisely) hit the shopfloor in search of something for the weekend. The manic intensity of the shoppers, the ching from the tills, the queues out the door must surely be a sign of a business in its sweetspot moment. Who in their right mind could possibly argue that this will soon be gone?
After closely watching the situation for many years, Inditex (the parent of Zara) finally took the plunge into online in September 2010. Their model seems to be close to that of the Apple Store, where the retail locations are showrooms to feel the goods and the actual purchasing takes place later online. This is a 180 degree take on how people purchase cars, for instance, where the research takes place on line and the actual purchase at a dealer location. Pablo Isla, the Inditex CEO, said he expected online sales to be "complementary rather than cannibalistic" and has set the price and returns policy to be exactly the same. The priority would remain to look for store expansions with online stores available for people who did not have easy access to a physical location. In addition to the online store, Zara created a smartphone App and say they engage with customers through a social media presence on Twitter and Facebook (Zara´s Facebook page has 16 million fans). So are they doing all the right things? Well maybe. If we go back and look at how discount retailers with out of town shops disrupted full-service department stores, the key lesson was that the only way to defend yourself is to set up an independent, stand alone unit with no links to the main stores. Quite clearly Zara are not doing that but instead are hedging their bets. History tells us that makes them vulnerable.
Startups
From talking to retailers, their argument is follows. Our t-shirts go for €3, how can we build an online business on that? Sounds sensible until you counter, if our t-shirts go for €3, how can they come all the way from India? The first online efforts to take on retail came during the dot com boom. The story of Boo.com is well known and was well told in Boo Hoo the book that came out after the company´s collapse. Other companies concentrated less on replicating the complete shopping experience and instead on a niche such on repeat ordering. They idea was that every three or six months you would be sent a box of socks and underwear. Popping into a store can be a hassle but these items are standard for many people so could be ordered on repeat. These companies had limited success but were mostly overtaken by the large online retailers who could negotiate better prices. We are now in the new dot com era, a time known as social, local and mobile (SoLoMo). New startups are competing not just on price but also on functionality due to the emergence of phenomena such as Facebook, Twitter as well as technologies such as GPS, Broadband and behaviours such as crowdsourcing.
The first thing to understand is how fashion is now organised around looks rather than garments, so whenever noted author and party planner Pippa Middleton is photograhed in public that causes a spike in sales of whatever she is wearing. Just looking locally, Shot & Shop is a fashion startup in the Wayra Academy in Madrid. UniQinu is another one in Area31 the startup incubator at IE Business School. Chicisimo is a global community of girls sharing their personal style and inspiring each other which has raised over €800,000 in Venture Capital. As ever, the tendency is to dismiss the passion behind these sites or in others such as Fashion Foie Gras or What Pippa Wore as just enthusiastic amateurs. Call me back when they get a Business Model is the cry from the VIP lounge in Heathrow. The danger of course is that the business model they get works much better than the one you have.
Three more substantial names who merit our attention are Asos, Motilo and Net-A-Porter. As the pioneer of selling luxury fashion brands on the internet, Net-A-Porter is the best known. Started by Entrepreneur Natalie Massenet in 2000, the company was sold to the Richemont group in 2010 for around £350m. In an anecdote that will bring joy to the those in the mostly unappreciated field of financial services leaflet printing, it all started when she picked up an "Are you an entrepreneur?" leaflet in a Barclays Bank. Motilo is the tale of another glamorous female Entrepreneur, Rome born Sofia Barattieri. Describing itself as an "online shopping community" the idea is to provide a way for people to shop together in real time using the interactive features of the internet. So while people come for the streamed fashion shows and designers´ blogposts, many then create their own fashion profile for others to see. Its all very early stage as yet, but creating a profile to come back to every day worked for Facebook and Pinterest. In theory, creating a profile has much more utility when done in a niche area.
Then we have Asos about whom The Guardian wrote "How Asos took over the world". Standing for As Seen on Screen, Asos is 13 years in operation, has over 1,000 employees and had revenue in 2012 of £515 million (€600m). Official figures state they have 4.38 million active customers from 160 countries. Outside the UK, the next countries they prioritise are France and Germany. It´s a typical Disruptive Innovation story in that they started very simply by aping what celebrities were wearing and then moved up the value chain. Nick Robertson, the company founder and CEO, claims to have had the idea when he heard that 25,000 viewers had telephoned the Friends TV show to ask how to get their hands on the clothes the characters wore. Steadily, Asos has moved more upmarket to establish itself as a designer brand with Asos Black (evening wear), Asos White (more daytime) and Asos Green Room (ethical fashion). Coming next is Fashion Up, a mobile only magazine pitched at the 20% or so of their customers who access the site using a mobile device. Bestseller, a Danish retailer whose brands include Vera Moda, Jack & Jones and Mamalicious, now own 28% of the company clearly with an eye on not being held to ransom if retail really does get eaten.
Free Culture
The great unknown is how permanent will be the trend away from shopping malls and towards celebrity engagement via social media, followed by online purchase. Also is there really a move away from centres of low cost production to a more on demand system once a piece is ordered? While copyright disputes hinder innovation in books, film and music, fashion has a free culture where the concept of Intellectual Property is mostly unknown. This spurs innovation and sales even if those of you that have read the Roberto Saviano book Gomarrah will have seen a darker side to what our celebrities wear. The other new force will be from the centres of low production themselves, where a generation who once made the clothes will look to design them as well. Will Milan, Paris, London and New York survive as the centres of world fashion? It could very well be that this will depend as much on the start-up kids coming through as on the designers themselves.